EFIE
O2 Sensor Enhancer
EFIE stands for Electronic Fuel Injection Enhancer.
When we add HHO gas to our engines to burn our fuel more efficiently, by increasing combustion, we are adding more oxygen in to the air/fuel mixture.
This changes the exhaust gases and tells the computer through the oxygen sensors something is not right. The computer will try to adjust the air/fuel ratio by adding more fuel.
The Electronic Fuel Injection Enhancer then goes to work to resolve this, by altering the signal to the computer through the oxygen (O2) sensors, so the computer will be content with its readings.
Which O2 Sensor Enhancer Is Right For My Car?
Essentially There Are 2 Types Of Auto Oxygen Sensors;
Narrow Band And Wide Band
If your vehicle is pre 1997 then it is a narrow band.
If it is an American car, then it is a narrow band (a few 2009's are wide band).
Japanese or German vehicles built after 2000 is most likely a wide band.
If you have 4 wires (and it is not a Toyota) it is a narrow band.
Toyotas have 4 wires and they are wide band.
If the sensor has more than 4 wires it is a wide band . So 5 and 6 wires are wide band.
Most diesels will not have O2 sensors, however a few do.
* Look for a sticker underneath your hood with technical data about your vehicle. If you have wide band oxygen sensors, which may be called AFR (Air/Fuel Ratio) sensor, they are noted on these stickers.
How Many Oxygen Sensors Do I Have?
V-6, V-8 and larger will usually have 2 auto oxygen sensors that are upstream of the catalytic converter, one on each exhaust manifold. Vehicles with 4 cylinder engines usually have 1 upstream sensor. You may find a configuration that varies from these.
Not Sure Which O2 Sensor Enhancer You Need?
It can get confusing. If you are not sure which one is right for your vehicle, the past requests at the bottom of this page may help. You may find your vehicle information there or help to assure you which one is needed. If you are still unsure feel free to contact us.
---
All HHO oxygen sensor enhancers come with great instructions. Once you get it dialed in, thats it, you will not have to adjust it after that.
Encased in epoxy for protection and mounting tabs for easy installation. A terminal block for connections to the oxygen sensors and for power and ground.
An LED light to show you when the unit is on. When the O2 enhancer is not "on" it goes back to factory setting.
These units have a start up delay of about 50 seconds. For the first 25 seconds after power up, there will be no change to the sensor's signal. After approximately 25 seconds the unit will start ramping up to it's set point. At 50 secs it will reach it's full adjustment to the sensor's signal, and will stay at this setting unless the pot it adjusted, or the power is turned off. This postponement is deliberate so that the fuel mix will be richer during engine start up.
Extremely accurate with a signal drift of less than one percent across it's entire operating temperature range, which is -40 to 275 Degrees Fahrenheit or -40 to 125 Celsius.
---

Digital EFIE For Narrow Band Oxygen Sensors
We recommend Digital Electronic Fuel Enhancers for all narrow band oxygen sensors. These new digital enhancers allow much leaner settings than other O2 enhancers.
Can make the air/fuel mix much leaner than earlier designs. With this device you can lug down your engine, and often kill it if you set it too lean.
Absolutely rock steady adjustment no matter what temperature the environment. Will vary less than 1/2 of 1% over it's rated temperature range of -40 to 125 Centigrade.
One adjustment pot modifies both upstream (Digital) O2 Enhancers equally, and similarly, one pot adjusts both downstream (Analog) O2 Enhancers. This makes these devices easier to set.

Quad Digital EFIE Basic
Narrow Band


This unit is recommended for almost all American cars, foreign cars older than 1997 and most foreign cars after 1997.
It will be the right one for ninety percent of all vehicles.

$99.00
---
Dual Digital EFIE
Narrow Band


These should be used for oxygen sensors that are upstream of the catalytic convertor.
If you need to treat down stream oxygen sensors please purchase the Quad Digital Enhancer above.

For 4 cylinder engines and for any other engines that may have 1 sensor up stream like some 6 and 8 cylinder engines.

This model has one digital one analog electronic fuel injection enhancer. The analog should be used for your downstream sensor.

With one pair of potentiometers that controls the wide band, and another pair of pots for controlling the narrow band.



$79.00

Digital EFIE For Wide Band Oxygen Sensors
Wide Band Quad EFIE
For 6 and 8 cylinder engines that have wide band oxygen sensors. Vehicles that have wide band oxygen sensors, only use them upstream of the catalytic converter. The downstream sensors will still be narrow band. This digital EFIE has 2 wide band and 2 narrow band EFIEs.
It has one potentiometer that controls the 2 wide band and another pot for controlling the 2 narrow band.
It will work with all types of wide band and AFR (Air/Fuel Ratio) sensors. It is the EFIE to choose for four and five wire oxygen sensors. Also note there is a variation of the 5-wire sensor that uses 6 wires. This device will work with these also.

$99.00
---
Wide Band Dual EFIE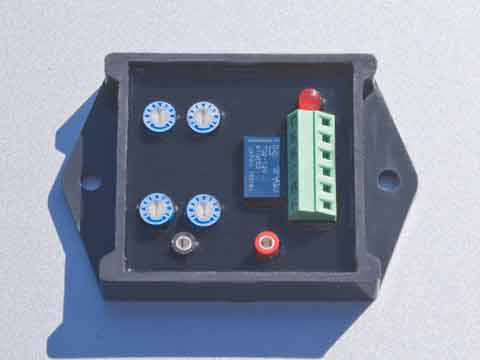 This is the O2 Sensor Enhancer for 4 cylinder engines that are equipped with wide band oxygen sensors, or any vehicle with one wide band and one narrow band sensor. Note: Vehicles that use wide band sensors, only use them upstream of the catalytic converter. The downstream sensors will still be narrow band. Therefore this product has a wide band and a narrow band EFIE.

$79.00
---
---