Also great for smaller engines pulling weight constantly or heavy weight.

Tractors, Boats and RVs.

Gas and Diesel Engines
All of our hydrogen kits have a lot of testing, research and money behind them.
The S-20 generator has seven 16 gauge marine grade 316l stainless steel plates.
Durable 3/4" Thick Starboard material used in marine applications. Quality die cut EPDM rubber gaskets.
Comes with a stout 3 quart reservoir tank with quality finger tight butress cap.
2 dryers that filter down to 5 micron to keep any contaminents from entering your engine.
Please Note: The 9 x 16 kit is for 12 Volt Systems if you have a 24 volt system please contact us.



No Freezing With Our Generators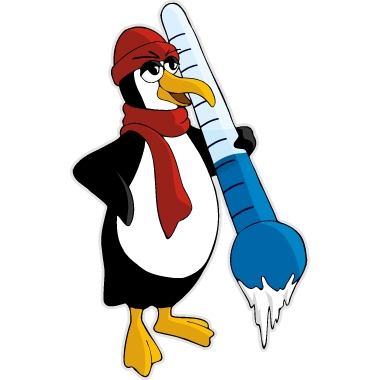 Because of our design and the efficiency of our generators they will not freeze.
Our hydrogen generators will not start to freeze until -54 Fahrenheit or -47 Celsius
Your kit will comes with your catalyst - potassium hydroxide. Please visit our Hydrogen Generator Catalyst page for more information and video.

All Of Our Kits Includes Easy To Read Instructions With Colorful Diagrams
And Technical Support If Needed.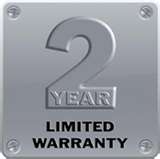 ---
Superior Parts and Design
Our Design
The S-20 hydrogen generator kit is a unique design which incorporates stability with forward thinking science.
With 7 plates, which equates to maximum efficiency, we apply 13.8 volts to 7 plates and are actually running each plate at just under 2 volts.
Superior Parts
We go the extra mile on all of our parts making a reliable and durable hydrogen generator diesel system.
Anti-Vibration Hardware Technology - Can endure any type of punishment that is thrown its way.
Top Notch Electronics
Digital Display - Installed inside the cab with Cat 5 cable
3 Quart Reservoir Tank - Melt welded custom fittings with a quality butress cap.
Dryers - Silicone o-rings
Drain Hose - with quick disconnects
Stainless Steel Hardware
25' Reinforced Heavy Duty Fuel Hose

Optional "Trucker" Boxes

A Hydrogen Generator Kit Will Reduce Carbon Footprint
Not only is hydrogen on demand one of the best ways to improve gas mileage, but you can reduce carbon footprint dramatically. Tests have concluded that adding a hydrogen generator can clean emissions over 50%.

---
Pre-Sanded, Cleansed and Conditioned
Our thick 16 gauge 316l stainless steel plates are cross sanded.
The stainless steel plates go through a vigorous cleansing and conditioning process. We even go so far as to wear gloves to keep human oils off of the stainless steel plates.
We cleanse the plates for 2 days straight to release chromium, loose iron and debris.
After the plates are truly cleansed we begin the conditioning process. The reason for properly conditioning the stainless steel plates is to build up a layer on the plates that then begin to create magnetic energy.
This process allows the generator to create a higher percentage of ortho hydrogen. Essentially, we can run the hydrogen generator at lower amps thus producing magnetic HHO gas or as otherwise known as ortho hydrogen, a quality HHO gas.
---
Below is chart to show how much you can save with our hydrogen generator kit.
The chart is based on getting 6 MPG (before HHO) and driving an average of 2,400 miles a week with the cost of fuel at $3.00 a gallon.
Even at a modest percentage of 30% MPG increase, which means you went from 6 MPG to 7.8 MPG, your annual savings would be $14,404.
2400 (miles driven in a week) divided by 7.8 MPG = 307.69 (gallons of fuel) X $3.00 a gallon = $923 So $1200 (cost of fuel at 6 MPG) minus $923 = $277 (Savings)
Every week saving $277. This equates to a yearly saving on fuel costs of $14,404 (277 x 52 weeks)
Not to mention the extra horsepower you will experience when you add HHO, especially going up hills with a heavy load.
Another great benefit is that your emissions will decrease dramatically, 50% or better.
As you can see, you will easily recoup your money invested in our hydrogen kits.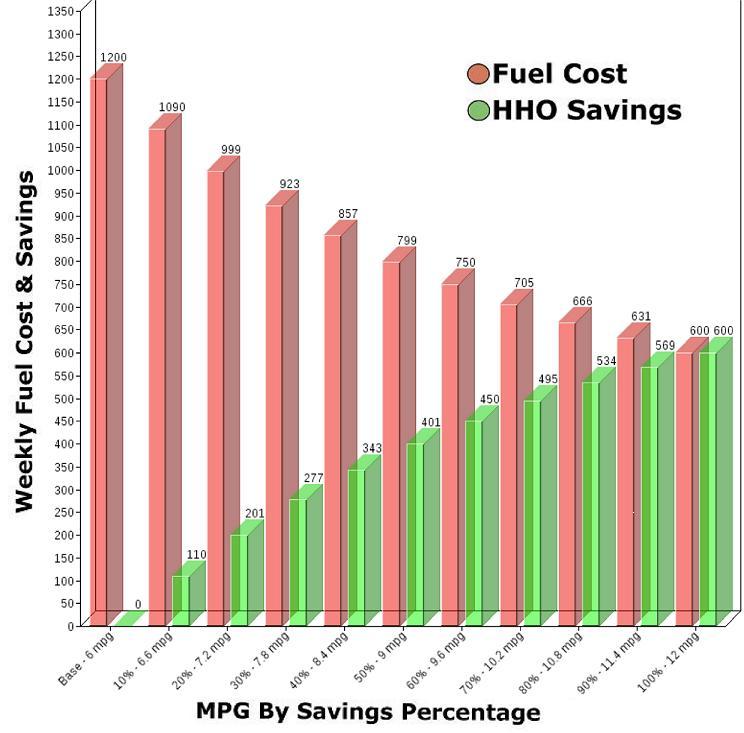 ---
Subscribe to HHO Flash