FS2 HHO Chip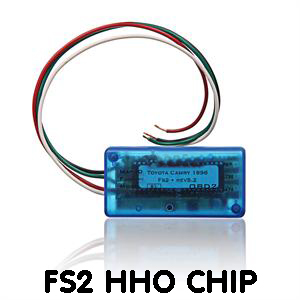 $110.95
(Regularly $149.95)


Automatically Reads Your Vehicles SensorsNo Programming Needed
Gas and Diesel Engines
Dynamic -Soft Flashing
This circuit works by an exclusive process of "Dynamic Soft-Flashing" the ECU.
It has been specifically tuned for the needs of vehicles with a hydrogen generator system installed. The FS2 is dynamic - which means the FS2 will consider oxygen levels in the exhaust, along with engine speed and load, intake air temperature and volume, and many other variables to establish the most efficient fuel delivery rate and timing at up to 256 separate load points.
When using hydrogen gas as a fuel supplement, the FS2 will adjust fuel delivery and timing to optimize efficiency.
When HHO gas is disabled, the FS2 will automatically re-adjust and switch to highly efficient, non-HHO enhanced maps.
The FS2 is a vehicle specific, custom programmed 200MHz Microcontroller. It utilizes its high speed serial input/output to communicate directly with the ECU through the OBD-II port.
The FS2 is compatible with factory equipped Turbo/Superchargers, diesel engines, Flex-Fuel, and HHO supplement systems. It is NOT compatible with hybrid engine options, propane, or natural-gas.
The FS2 HHO Chip is legal and not an illegal product. It is not flashing your ECM's rom memory. It takes data from your ECM's ram memory.
Easy Installation, only 4 wires! Locate the OBD-II port, use the included connectors, or solder and you're done. Connects behind your OBD II connector's wires. You can still use the OBD II plug for any accessory.
---
Important: Please make sure you tell us the year, make, model and engine size through the shopping cart message area or feel free to phone in your order - 541-808-2503
---
Instructions For Installation
HHO Chip Installation Video
Printable Vehicle Specific Wiring Diagram
Locate your OBD-II port and note which pins are populated, then click the link below to begin. If the tool fails to launch, make sure you have Latest Version Of Adobe Flash

---
INTERNATIONAL CUSTOMERS : Please make sure your vehicle is OBD-II and that it is on the list above before making a purchase. 1996 to 2012 cars and trucks are OBD II. Will not work with OBD I ( 1987-95) cars. Unfortunately we are not able to program for some of our overseas customer.
---
Please click here to read more about your hydrogen car conversion choices.

---